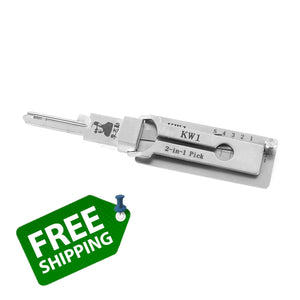 Lock opener tool🔥
Regular price
$79.99
---

The thinnest, lightest, most convenient, and best lockpicking tool.
You can open any kind of lock easily without being an expert in lockpicking.
Description:
The Lock opener tool is the biggest revolution in lock picking! It literally enables someone who isn't familiar with how to pick a standard pin & tumbler lock, to be able to quickly and efficiently open one like magic! It's not just for beginners though, each tool combines a keyway-specific molded pick channel, along with a single hook-pick lever, tension bar and even a decoding interface.
Greatly Reduces Picking Time!

Allows Picking and Decoding Simultaneously

Measures: 4.5" Long x 1" Wide x .5" Thick
Weighs: .9 oz.
The beauty of the tool is it's simplicity. With a clever and simple numbering system on the pack handle, you actually pick the lock OUTSIDE the lock. 
OUR 100% NO-QUESTIONS GUARANTEE:
We truly believe leaving customers satisfied is always first. If you aren't 100% Satisfied with your order for any reason we will do WHATEVER it takes to make sure you are 100% happy with your purchase to ensure you are left satisfied.