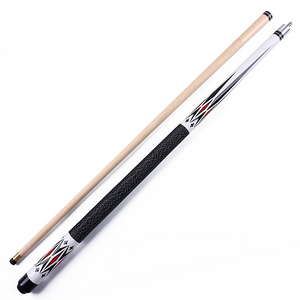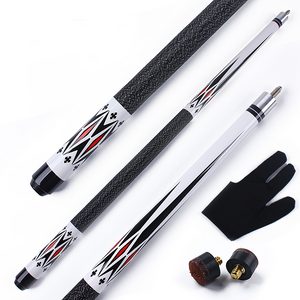 Billiard Pool Cue Stick

FREE SHIPPING FOR LIMITED TIME!!
Premium:

 

Quality Product!
100% Satisfaction Guaranteed
Customers usually buy 2!
This high-quality billiard pool cue stick is a must-have for any serious pool player. Made with premium materials and craftsmanship, it provides a smooth and precise shot every time. The sleek design and comfortable grip make it a pleasure to hold and use. Whether you're a seasoned pro or just starting out, this cue stick will help you up your game and impress your friends. Don't miss out on the opportunity to own this exceptional cue stick – it's the perfect addition to your pool accessory collection.
SPECIFICATIONS:
Butt: Painted white color with decal design
BENEFITS:
High-quality materials and craftsmanship: This cue stick is made with top-notch materials and is built to last, ensuring that you get the best performance and value for your money.

Smooth and precise shots: The design and construction of this cue stick allows for smooth and precise shots, helping you make the most of your gameplay.

Comfortable grip: The comfortable grip of this cue stick makes it easy and enjoyable to hold and use for extended periods of time.

Sleek design: The sleek design of this cue stick is sure to impress your friends and add a touch of style to your pool accessory collection.

Improves your game: Whether you're a beginner or a seasoned pro, this cue stick will help you up your game and take your pool skills to the next level.
PACKAGE INLCUDES:
OUR 100% NO-QUESTIONS GUARANTEE:
We truly believe leaving customers satisfied is always first. If you aren't 100% Satisfied with your order for any reason we will do WHATEVER it takes to make sure you are 100% happy with your purchase to ensure you are left satisfied.